HI'ILEI ROBINSON
2017 Scholarship Recipient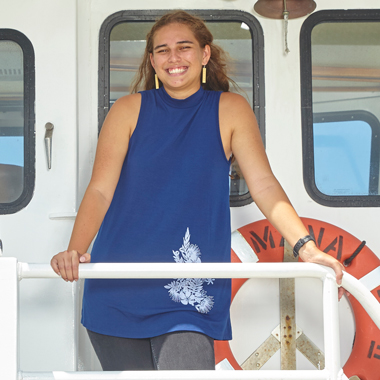 "Being on the ocean is different every day. I'm always learning something new and I don't think I'll ever stop learning."
Driven and passionate, Hiʻilei Robinson makes the most of her opportunities. She grew up on an island in the middle of the Pacific, but she knows that the ocean is what connects her to everything around her.
She was part of the Kihei Canoe Club at a young age, and started outrigger paddling in middle school. She went on to compete in the 2012 Calgary World Sprints, paddled down the coast of Washington during the 2014 Paddle to Quinault with Native American tribes, and met Maori participants. "You never really notice the differences that you have [from other people] because when you're out on the water, it's just you and them and the ocean, and everyone wants to be there, too." These experiences introduced her to different cultures around the world—and deepened her own love of both Hawaiian culture and the ocean.
Hiʻilei never thought she could make a career out of her love for the ocean, until she ventured into sailing for the first time in high school. She joined a voyaging program (Hālau Holomoana of the Kānehūnāmoku Voyaging Academy) that brings Hawaiian traditions related to navigation into the modern world, teaching students the need for new Hawaiian maritime leaders. Most of all, sailing helped to harmonize her passion for both the ocean and Hawaiian culture. "We were sailing around the Big Island and I had one of these moments with my kumu," she says. "It made me realize if I'm out on the ocean doing what I love, then I'll be okay with where I am because I'll be happy."
When Hiʻilei was choosing between colleges, she realized she didn't want to go to college to do anything in her life but sail. California State University Maritime Academy, or Cal Maritime, was the clear choice. "Being on the ocean is different every day. I'm always learning something new and I don't think I'll ever stop learning," she says. "A lot of my teachers say they learn new things every day. I'm just really excited to be in an industry like that."
At Cal Maritime, Hiʻilei gained a greater understanding of how the world around her works: for instance, how vital maritime activities are to the United States', especially Hawaiʻi's, access to necessities. "It makes me appreciate the ocean more and everything shipping has to offer," she says.
Manaʻo Nui has been instrumental in Hiʻilei's exploration of the maritime industry even outside of assisting with her education costs. She was also given unique opportunities to see and experience what the industry has to offer in Hawaiʻi. With Manaʻo Nui's help, she has made connections with industry leaders including Hawaiian harbor pilot Captain Ed Enos, and did a ride-along at the floating dry docks in Honolulu. "I'm just so thankful for Manaʻo Nui for investing their time and their thoughts into me," she says, and that "they're supporting Hawaiʻi kids, no matter where they are."
Her advice for other Hawaiʻi youth who are interested in the industry? "The maritime industry is very large and very flexible for all kinds of learners," she says. "[It] has a lot of opportunities. Use them. Find them, and go for it. Never give up."
Hiʻilei is excited for her career path, and it only gets better. She most looks forward to "taking everything I've learned and actually doing something with it," as well as "using it in my everyday life and applying it to all of the jobs that I could possibly have with any company, anywhere in the world."