AKA'ULA SCHOOL ON MOLOKA'I
Grant Recipient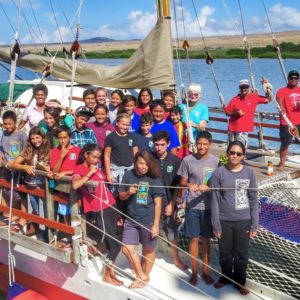 Manaʻo Nui's funding opened the doors for the school to continue offering a curriculum full of educational choices and opportunities for every individual student. Everyone, Vicky says, is given a chance to shine. Learn more about the Akaʻula School at: www.akaula.org
Akaʻula School on Molokaʻi was established in Fall 2003 and opened in school year 2004-'05. Their philosophy is simple, but it runs deep in all they do. Their core values are ʻIke, Laulima, Pono, Malama, and Kuleana. Thanks to Manaʻo Nui's donation, Akaʻula School was able to extend and improve their existing curriculum. The school values its ability to improve and tailor a rich curriculum according to the changing needs of the students and of Molokaʻi. Around 75% of the school's enrollment is part-Hawaiian or Hawaiian, and the school serves a range of academic abilities from grades 5 through 12.
Hands-on, "authentic work with real materials," as the school head Victoria "Vicky" Newberry puts it, and participation help students see and experience the connections for themselves between language arts, mathematics, social studies, science, and the real world. Along with the core curriculum, students are involved in art, music, drama, technology, and other enrichment opportunities throughout the school year. Teachers as well as students love the community participation and travel; activities such as celebrating Martin Luther King, Jr. Day; hosting guests like Manaʻo Nui; and volunteering time at the Akaʻula Cat Garden (a cat sanctuary/adoption center adjacent to the school) and beach cleanups.
Through place-based education, their students are taught to be a part of their community and contribute, wherever they may be. Support from organizations like Manaʻo Nui allows the school's curriculum to continue steadily with this philosophy. Travel opportunities include visiting the southwest U.S. mainland, Alaska, Japan, China, Botswana, and Europe. Students are taught to be driven and more independent in fundraising for the travel costs. While on the road, students are empowered to understand and "see what's out there," as Vicky says. As the local youth and families of Hawaiʻi know, it can be challenging to find the means to travel outside of the islands; worldviews can be limited and ethnocentric without exposure to other cultures. Akaʻula School, however, emphasizes immersion in such vastly different environments and communities, learn about those communities and their people, and return home with a newfound, expanded perspective of their own place in the world, sharing their experiences with those back in Hawaiʻi.
Though travel is ingrained in the school's philosophy, being on an island, the school encourages the idea of long-term self-sufficiency in lieu of turning to industries dependent on outsiders, such as the tourism industry, for subsistence. One of their key programs is PRISM, or Providing Resolutions with Integrity for a Sustainable Molokaʻi. The annual PRISM Symposium synthesizes the lessons learned in the classroom and experiences gained in their local community and beyond. Students first investigate complex environmental issues; then, at the symposium, they share their findings about their projects. Topics include beach cleanups, feral cats around the islands, and recycling programs, to name just a few.
Some students at Akaʻula School have gone on to pursue their interest of their environment and ocean, continuing initiatives that began at the PRISM Symposium; most notably in recent years, the Polystyrene Ban Bill started with a former Akaʻula student and has been passed in Maui County so far, outlawing the use of polystyrene foam food containers. In the grand scheme of their students' being members of a global community, they are encouraged to be self-motivated and have integrity in all that they do.
No matter where they come from or who they are, says Vicky, the school believes that everyone has something special to contribute to their communities.